10 Great Christmas Gifts & Where To Find Them
It is the most magical time of the year!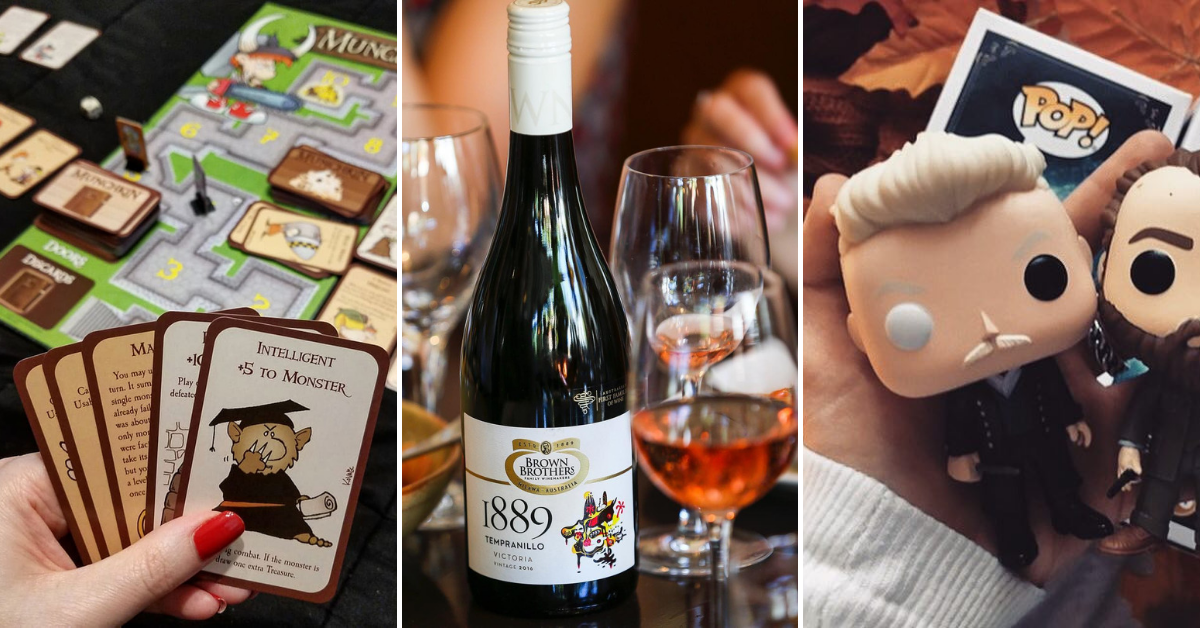 We are only one month away from the most magical day of the year! When it comes to Christmas, don't we all have trouble figuring out what kind of presents will be perfect to place underneath the Christmas tree? It is always so hard! No worries! Get the most out of our 10 Great Christmas Gifts & Where To Find Them list!
10 Great Christmas Gifts & Where To Find Them
1. Wrap Up A Funko Pop!
🎁 Perfect for Adults & Children
These figurines are the cutest! These adorable figurines are perfect gifts for everyone. These are great decoration pieces for bookshelves, or even as travel companions. You can find all kinds of characters from the Harry Potter franchise, Star Wars franchise, and even Games of Throne franchise. There are even Disney characters too! So, you can find one character that truly reflects the person that you are gifting this adorable figurine. You can get them at Sheldonet Toy Store, located at Mid Valley Megamall.
2. Present A Good Book
🎁 Perfect for Adults & Children
The perfect gift for both adults and children! It is always a good idea to encourage others to read. You can find the perfect book at Book Xcess. Book Xcess is having a promotion from 9th of November to 1st January 2019. When you spend more than RM 100, you are entitled to get a RM 10 voucher! In addition, gift wrapping is available for free. Give The Gift Of Reading allows you to purchase a book the underprivileged, and they will add one to the stack too! By the way, this promotion is until 20th December 2018 only.
3. Gift A Starbucks Merchandise
🎁 Perfect for Adults
We are always excited to see Christmas merchandises from Starbucks. And this year, they did not fail us. Starbucks Malaysia rolled out the cutest snow globe of all time. Shaped like Starbucks cup with a silver lid, it contains a cute tiger hugging a plastic cup with beans spilling on the other side. Unfortunately, it comes at a hefty price. Fret not! They have rolled out some cool light blue tumblers too. If that is not your thing, you know you can always get a Starbucks card!
Bonus: No idea what to get for Secret Santa? Get a Starbucks card!
4. Wrap Up A Board Game Or Card Game
🎁 Perfect for Adults & Children
What brings people together? Good food, and good games, of course! Board games and card games are great gifts for friends and family! Just think of spending Christmas night playing games with your closed ones It is definitely a good way to end the magical night. If you are thinking that board games are just Monopoly and Cluedo, you're wrong! There are so many and you can discover all sorts of board games at Meeples Board Game Store, located at Subang Jaya!
5. Present An Annual Journal
🎁 Perfect for Adults
Help your loved ones to document 2019 by gifting them an annual journal. Find a great one that matches their character. If they are sleek and sophisticated, you can always present them a fancy Moleskine, available in Kinokuniya and other major bookstores. Are you looking for something fun and outstanding? Try out Typo instead! They have many colourful and funky choices to choose from. Or, time to get crafty by purchasing a notebook from Muji and make a bullet journal from scratch. Super sweet!
Bonus: No idea what to get for Secret Santa? Head to Typo to find something fun and quirky!
6. Gift A Streetwear Shirt
🎁 Perfect for Adults
The streetwear scene in Malaysia is forever booming and that is one of the many reasons why you cannot go wrong with a streetwear shirt. If you have some extra cash to spare, sneakers will be a great option too! Back to shirts, you can check some cool stuff at Major Drop. They have both international brands such as Stussy and local brands such as Pestle & Mortar Clothing. You can purchase their products online or drop by their store located in Sunway Pyramid. By the way, there is a sale with discounts up to 70% off going on online now as we speak!
7. Wrap Up A Pair Of Headphones
🎁 Perfect for Adults 
Headphones are great gifts if your loved ones commute with public transport on a daily basis or simply travels a lot! With Netflix, Spotify, and everything else in between, a good pair of headphones wouldn't hurt at all. There are many choices when it comes to headphones, and it is always best to buy in-store as compared to online, simply 'cause you need to check out the quality and durability. You can always check out Jaben, a little headphone store in Subang and Nu Sentral, or brands such as Sony, located in multiple shopping malls across Kuala Lumpur.
Read Also: 10 Wonderful Ways To Celebrate Christmas In Kuala Lumpur This 2018
8. Present A Christmas Packaging Make Up
🎁 Perfect for Adults
One of the great things about Christmas is Christmas themed make up! Once you stepped in Sephora, it is so hard to walk out without buying anything for yourself and your loved ones. If your loved ones adore make up and cute packaging, Sephora is definitely the place to go. This year, major brands such as Tarte, Fenty Beauty, and Benefit Cosmetics, are dropping really cute and limited edition products. A cheaper alternative will be gifting Sephora collection. They have palettes and lip kits!
9. Put A Bow On A Bottle Of Wine
🎁 Perfect for Adults 
Come quickly, I am tasting the stars! A bottle of wine will be the perfect Christmas gift wine enthusiast, or simply someone who is discovering the wonder of wine. If you are not a wine lover yourself, it can be very tricky as there are so many different types to choose from. Sauvignon Blanc, Pinot Noir, Chardonnay, and others! Time to head down to a wine expert to gift the perfect bottle. Ask the experts of wine from Wine Talk, Bottles & Bottles, and Corks Out Wine Shop to find a good bottle. If not wine is not a good choice, perhaps a bottle of champagne instead!
10. Gift Them An Experience
🎁 Perfect for Adults & Children
Well, it is not necessary for Christmas presents to be a real thing. It can be an experience instead. Perhaps, a holiday with your significant other or something extreme that they have always wanted to do but simply didn't have the cash for it! There are so many things to explore locally and internationally. You can always a book cheap flights to Penang or Langkawi for two days one night, or make big plans and head abroad to Thailand, Singapore, or even Japan! Save some money and check out Air Asia for cheap flights, Klook for cheap activities, and Trivago for the best deals for accommodation!
10 Great Christmas Gifts & Where To Find Them
That's the end of the list for 10 Great Christmas Gifts & Where To Find Them. Have you managed to figure out the best present for your loved ones yet?
Check out Foodie for more Christmas things!