11 Best Street Food In Bangkok Every Foodie Must Try
Take me to Bangkok.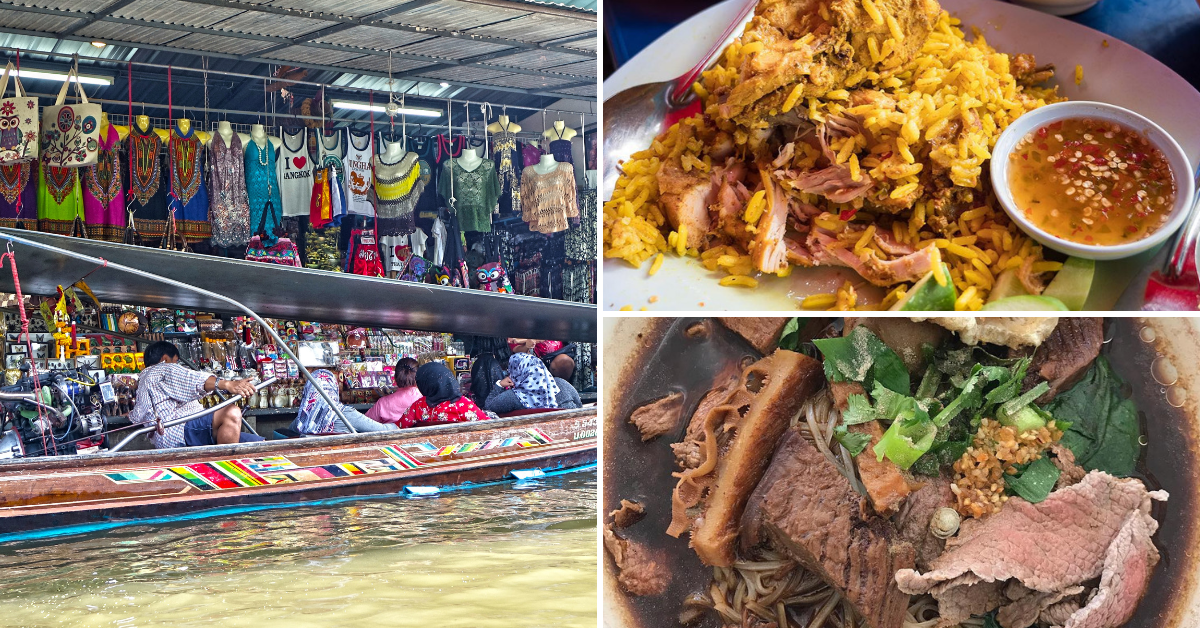 This post is all about food in Bangkok!
Being a foodie ourselves,we can sure speak for everyone when it comes to Thai food and now with flight fares as low as RM59 to get there by booking ahead, of course, it's super mobile to fly over and indulge in a meal or two with your other half foodie without making a hole in the wallet. Wandering around the street, we gonna make easier for you by listing down the street favourites and the must-have of 11 Best Street Food in Bangkok so you make the best out of the trip with a happy belly!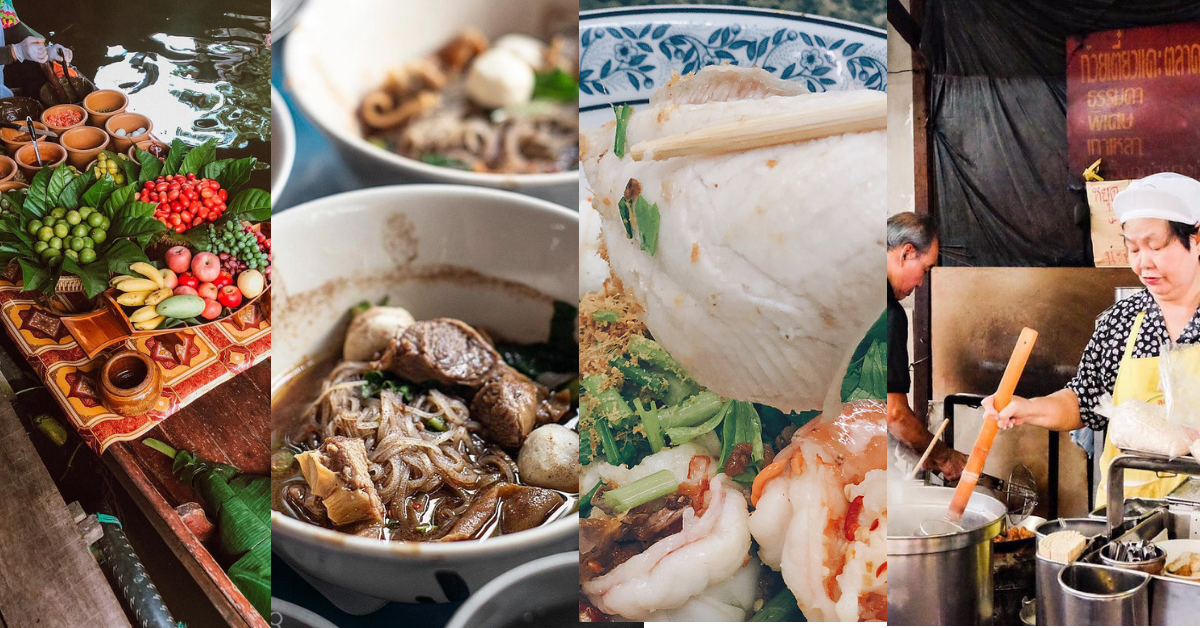 11 Best Street-Food In Bangkok
Thai food originated with the people who emigrated from the southern Chinese provinces into modern day Thailand many centuries ago. Historically there were many Szechwan influences in Thai cuisine, although over the centuries many other influences have affected Thai food.
In a more distant past, Buddhist monk brought an Indian touch, and southern Muslim states influenced the cooking in the south of Thailand. Much later, Thai food was influenced by European cuisine after contact with Portuguese missionaries and Dutch traders. During these times there were even some influences from the Japanese. And today Thai cuisine speaks for itself with a blend of sweet, sour, bitter, salty, and spicy flavours.
# Grilled Seafood @ Taling Chan Floating Market
Taling Chan Floating Market is exactly what you pictured when you planned your trip to Thailand. Located just outside of Bangkok on the access road to Khlong Bangkok No, the minute you walk in the entrance with plants and flowers alluring a scenic view, the smell of fried fish hits you.
Ahead you'll see a small, narrow river flanked by traditional longboats serving every type of seafood imaginable. Little old ladies will grill octopus, shrimp, fish and more on their tiny boats as a frenzy of catfish splash around in the background. An entire salt-crusted grilled fish is a must, as are grilled prawns. Street Food in Bangkok, Street food on a boat in Bangkok they've got the medication you need for street happiness.
Address: 300 Soi Chak Phra 17, Khwaeng Khlong Chak Phra, Khet Taling Chan, Krung Thep Maha Nakhon 10170, Thailand
Hours: Sat & Sun. 8 AM to 6 PM.
#2 Chinese Roast Duck
Roast duck is a commonly loved dish in the Chinese community be it any parts of the world the Chinese clan has occupied! One is fine dining style, the other is street style, without comprising on flavors sometimes even better!
Served in a hoisin gravy and with drizzles of dark soy sauce and slices of ginger on the side, this Chinese do top-notch duck second to it is the popular Thai Roast Duck (Ped Yang) which can be found in many food courts and as street food throughout Bangkok
Where to eat:
~Soi 6 Pochana  (Best in Town) –Run by a Chinese family who migrated to Thailand, duck roasted here is gloriously crispy and golden, with the sauce being  rich and flavorful with a balanced sweetness  allowing the meat to melt in the mouth so tenderly
~ Tien Song Ped Yang Restaurant– At Tien Song Ped Yang they have chosen the quality route and deliver good and tasty stuff that can explain the more than 65 years in business and the high concentration of locals returning to this big shophouse in Dinso Road
#3 Crispy Pork Belly/ Moo Krob
One does not go on a holiday and not hog on some fried signature the country has to offer and Moo Ping is our top favourite! Originating in the southern Chinese province of Canton also known as Guangdong, the dish was brought to Thailand by immigrants less than a century ago.
Whether roasted or fried, moo krob is characterized by its layers of contrasting textures, from the juiciness of the fatty pork to the crispness of the crackling so bad you can hear the shattering crisp in your ears. Commonly served with mustard, hoisin or soy sauce.
With only barbecue stalls, pork offal soup vendors and Fine-Chinese restaurant left to serve Crispy Pork Belly, the options are very hard to not miss it as they'll be an array of delicious-looking crispy pork belly hanging in front of the restaurant usually!
Where to eat:
~Kuay Jab Mr jOE  ( Literally the best in the TOWN)
~Son Thod ( Cantonese style Crispy Pork Belly encompassing a roast pork style with it tenderness and smokiness making it a hit with its crispiness heard) : 34/19 Chokchai Ruam Mid Alley Viphawadee Rangsit Bangkok 10900
~Moo Krob Nai Sai( With over 45 years of experience in making is crispy, this humble stall's secret is time)
#4 Fresh Seafood @ Khao Tom Pla Kimpo
Occupying a small shophouse on Plabplachai Road, next to Wat Thepsirin, the eatery is known for its top-class street food in Bangkok made to original recipes. A glance at the sidewalk display of the ingredients and cooking station out front underlines the freshness. The dining area, however, is air-conditioned, allowing customers to eat the piping hot soup in comfort even in the hottest weather.
Serving for over 3 generations, expect a good quality seafood of generous portions with a surprisingly simple menu with an option of Rice Soup, Spicy Salad, or Clear Soup (no rice). Known too well for their fish soup, this addictive offering is made from fish bones and brings together a fragrant, peppery, and sweet sustenance that will keep the bowl of goodness pilling up!
~Tripadvisor
Address: Charoen Krung Rd, Khwaeng Wat Phraya Krai, Khet Bang Kho Laem, Krung Thep Maha Nakhon 10120, Thailand
Hours: 6 PM to 12 AM. Opens daily.
Phone: +66 61 789 4665
#3 Khao Mok Gai (Thai Chicken Briyani) @ Silom Soi 20
Silom Soi 20 is known to a spot for Non-Thai Speakers to have a go at Authentic Thai Street Food thus If you're in the Silom district of Bangkok and looking for an authentic, friendly, and great morning market environment, Silom Soi 20 is a great place to explore.
Though Biryani, is originally from Persia and India, Muslim-Thai biryani rice with chicken, or khao mok gai, is a fairly common street dish that's especially popular in Southern Thailand. If you're facing Silom Soi 20, the stall is along the main Silom Road, just to the left-hand side a few meters is a street food cart set up along the sidewalk, within the entrance-way of another business, which doesn't open until later in the morning selling chicken buried in rice aka khao mok gai for more than 30 years now and rocking the game as ever!
A regular portion of khao mok gai goes for just 35 baht while the soup costs an additional 30 baht. If you're really hungry, request piset gai for an extra chicken leg, or piset khao for extra rice.
Price: 40 Bath for the Biryani and 30 Bath for the chicken soup
Address: Khet Bang Rak, Krung Thep Maha Nakhon 10500, Thailand/ Soi Convent (in front of Bua Restaurant)
Hours: 11 AM to 5 PM.Closed on Sunday
Tel: +086-042-4645
#5 Soft Boiled Eggs In Tom Yam Noodle @ Ko Boo Rod Zing Noodle
Tum yum doesn't come better than Ko Boo Rod Zing Noodle which lines up along Khlong Chan. Take classic tom yum, a soup broth made from lemongrass kaffir lime leaves and galangal ginger. Throw in freshly-cooked rice or egg noodles and top with a runny egg which coats everything in creamy, rich yolk and there you have an OG Egg noodle street affair that became a hit that they have proudly branched out to 5 other stalls!
If eating oozing soft boiled eggs over noodles at 4 am is appealing to you, Ko Boo Rossing Noodle (ร้านโกบู้รสซิ่ง) is a Bangkok street food stall you're going to want to take note of as they are ready to serve you 24 hours a day.
Encompassed of bouncy Thai meatballs, slices of tender pork, crushed peanuts, coriander, and bean sprouts, along with a duo of soft boiled eggs, your bowl of tom yum noodles will you right in the spot with its nuttiness, sweetness with a slight saltiness.
Price: 60 Baht
Address: 93 Nawamin Rd, Khwaeng Khlong Chan, Khet Bang Kapi, Krung Thep Maha Nakhon 10240, Thailand Hours: 24 Hours. Closed on Sunday
Phone: +66 85 180 8105
#6 Local Street Paradise @ Chinatown Yaowarat 
Just like Jalan Alor for KL City & China town for Penang, Chinatown Yaowarat also familiar as Chinatown Bangkok is the home Bangkok's Chinese community. The mediocre food is weeded out and ONLY the best street food survives.
By day, it doesn't look any different from other parts of Bangkok, but this big street has some hidden gems waiting to be explored. When night falls, the neon signs blazing with Chinese characters are turned on and many eateries spill out onto the streets filled with foodies.
Some Of The Best Eats : 
Traditional Dessert (Yaorawat 9) : Sweet tooth or not, everybody needs a bit of happiness and visiting Yaowarat would be incomplete without a Chinese dessert from a sweet cart. Ranging from fruits, red beans, black beans, coconut shredded, soymilk, all kinds of syrups to multicolor name it, you name it, they have it! Must Try: "Bua Loy Num Khing." These are rice balls stuffed with black sesame and served with a very hot and sweet ginger sauce.
Dim Sum: Minced meats wrapped in wonton-esque cases and steam cooked. Common examples on a dim sum menu include pork, crab or shrimp shumai. Originally served with soy and vinegar dip, the Thai equivalent is Kanom Jeeb which can be found as street food in Bangkok and come served with added sprinkles of toasted garlic.
Kanom Jeeb Wat Yuen: Being in the business for 55 years, Chinatown resident Jek Sia's pushcart is always surrounded by locals and outsiders who know the spot for the best pork dumplings. He took the recipe from his Teochew ancestors, using ingredients such as pork, shiitake mushrooms, and sesame oil. Priced at B15 for five pieces.

Kui Chai / Fried Pancake With Chives @ Hor Chia Jay Noi: Served to make a name for themselves, nothing beats the Kui chat than the ones sold here! Fried with a perfect to allow pancake to turns slightly crispy on the outside with the inside bein tender, dip in their home-made tangy and spicy black soy sauce for the ultimate burst of flavors!
Bua Loy Nam Khing/Chinese dessert dumplings @ Jae Aun: Perched on the corner of a busy Chinatown intersection, Jae Aun has been serving bua loy nam khing for more than 20 years. The famous Chinese dessert dumplings, which consist of a nutty sesame filling inside sticky rice balls, is traditionally served in a hot broth of spicy ginger, but here you can also order it in condensed milk. The shop opens after 7 p.m. when the neighbourhood is in full swing, so prepare yourself for a sensory overload.
#7 Pad Thai @ Thip Samai
Google Pad Thai and there's a high chance Thip Samai located in Old City will Pop Up!  Serving for the past 50 years and earning their spot as the best, there will be no shortage of a queue here.The recipe has been passed down from grandmother to mother and, now, to son, and the staff here still uses the same cooking method—over charcoal and mangrove wood. What to Eat: Pad Thai Sen Jan Man Goong (ผัดไทเส้นจันมันกุ้ง) – Pad Thai with prawn head juices, and Pad Thai Haw Kai Goong Sot (ผัดไทห่อไข่กุ้งสด) – Pad Thai wrapped in an egg.
Price/; 70 baht
Address: 313 315 Maha Chai Rd, Khwaeng Samran Rat, Khet Phra Nakhon, Krung Thep Maha Nakhon 10200, Thailand
Hours: 5 PM to 2 AM. Opens daily
Phone: +66 2 226 6666
Another place worth trying: Pad Thai Mae Am, Rama IV Road
#8 Som Tam @ Jay So
Ranked the 5th in the in the latest list of the top 500 best dishes issued by Lonely Planet travel guide, somtam is a  cold, spicy papaya salad made from green papaya, eggplant, tomatoes, dried shrimp, garlic, lime, fish sauce, sugar, and chilis. There are no words to describe it rather than the perfect representative of Thailand!
Located down a quiet side street in Bangkok's Silom business district, Locals flock here for som tam, a well-known Isaan dish. Try to show up a little before lunch, at about 10:30 am or 11 am to get a table. To balance out the spice, order some tender marinated chicken, grilled on site, or go for a variation on the classic papaya salad.
The menu is written in Thai, so take a shot in the dark, or tell the staff what you want. While you're at it,  order the Tam Pa for fiery beginning into this adventure!
Address: Soi Phiphat 2, Khwaeng Silom, Khet Bang Rak, Krung Thep Maha Nakhon 10500, Thailand
Hours: 10 AM to 6 PM.Closed on Sundays
Phone: +66 85 999 4225
#9 Mango Sticky Rice @ Mae Varee
The mango season in Thailand peaks from April to June, and although you can get mango all year round, it is during this time of the year that they taste the very best. Located less than five minutes from Thong Lo station, Mae Varee is known as the people's choice when it comes to mango sticky rice in Bangkok.
The mangos are fresh and perfectly sweet; the rice is mixed with high-quality coconut milk. You can also opt for three types of rice, all naturally dyed a different colour with flavours like green tea and pandan. Be sure to find a nearby spot to gobble it up; it's best when the rice is still warm, and the coconut sauce and roasted beans are poured on top.
~Tripadvisor
Address: 1 ซอย สุขุมวิท 55 Khwaeng Khlong Tan Nuea, Khet Watthana, Krung Thep Maha Nakhon 10110, Thailand Hours: 6 AM to 10 PM. Opens daily
Phone: +66 2 392 4804
Read Also: Top 17 Street Food in Melaka Every Foodie Must Try
#10 Kuay Teow Reua / Boat Noodle @ Doy Kuay Teow Reua
Bangkok is sometimes called the "Venice of the East" due to the vast network of canals (known as "khlongs") that crisscross the city. In the past, vendors would row their boats up and down the canals, serving tiny bowls of noodles to locals living and working along the canals.
There are countless of options but located behind a temple 10 minutes from crowded Victory Monument, Doy Kuay Teow Reua, a boat-noodle mecca(look for the blue awning out front) , is a find for better & tastier.
At the back of the restaurant, the owner pays homage to the origins of boat noodles by cooking and serving from behind a makeshift longboat. Choose between pork or beef; they're equally addictive. Both types of meat are served in a charming chipped bowl filled with vegetables and glass noodles in a rich, flavorful broth; for more texture, toss in some complimentary pork cracklins or fried wontons.
Address: 15 Ratchawithi Rd, Khwaeng Thung Phaya Thai, Khet Ratchathewi, Krung Thep Maha Nakhon 10400, Thailand
Hours: Open ⋅ Closes 6PM
Phone: +66 81 619 1925
#11 Ancient Street Dining @ Nang Leong Market
Located within a diverse historic neighborhood in the Dusit district, Nang Leong Market is a throwback in time, along with Ratchawat and Sriyan, one of the few remaining traditional neighborhood markets in Bangkok.
The amount of options here is mind-boggling. There are a handful of old, famous stalls, but it's best to try a little from as many as possible; dishes include Thai sausage, spicy curries, pork puns, and fresh salads. You can't skip out on dessert either: The market is known for its traditional sweets, from sticky rice to egg custard pudding.
Read Also: 10 Ipoh Food Every Foodie Must Try
Address: Nakhon Sawan 6 Alley, Khwaeng Wat Sommanat, Khet Pom Prap Sattru Phai, Krung Thep Maha Nakhon 10100, Thailand
Hours: 8 AM to 3 PM. Closed on Sunday
Phone: +66 81 513 1638
List: Things To Eat In Bangkok, Thailand
Here comes to an end of today's blog '11 Bangkok Food Every Foodie Must Try'. We hope you enjoy reading our recommendations. As usual, if we missed out any great Bangkok food, please let us know in the comment section below. We'll add them into the article after reviewed.
Hope a nice food trip in Bangkok! See ya.