Top 10 Foodie Deals To Grab In August 2019
Eat more, spend less!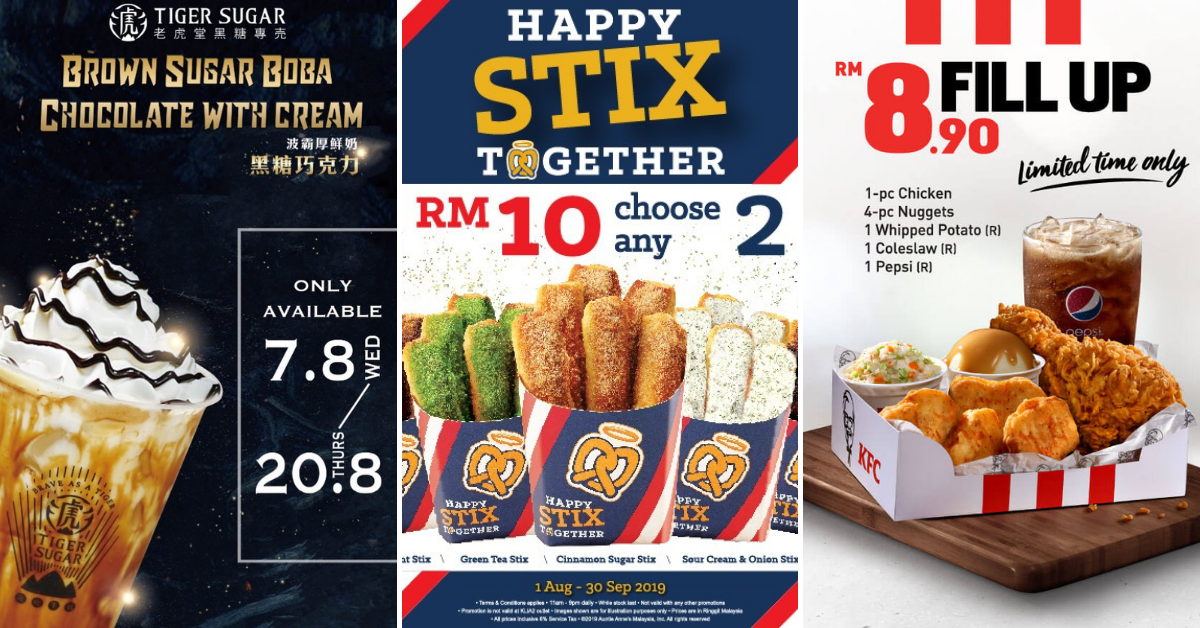 Hi Foodies! We're back with another selection of foodie deals you can grab this August. From your favourite bubble milk tea shop to Buy 1 Free 1 with your ultimate buddy, we got just the thing to get you grinning on 10 Foodie Deals in the month of Merdeka. Well, you just need to scroll on cause we got all the information you will need!
Top 10 Foodie Deals To Grab In August 2019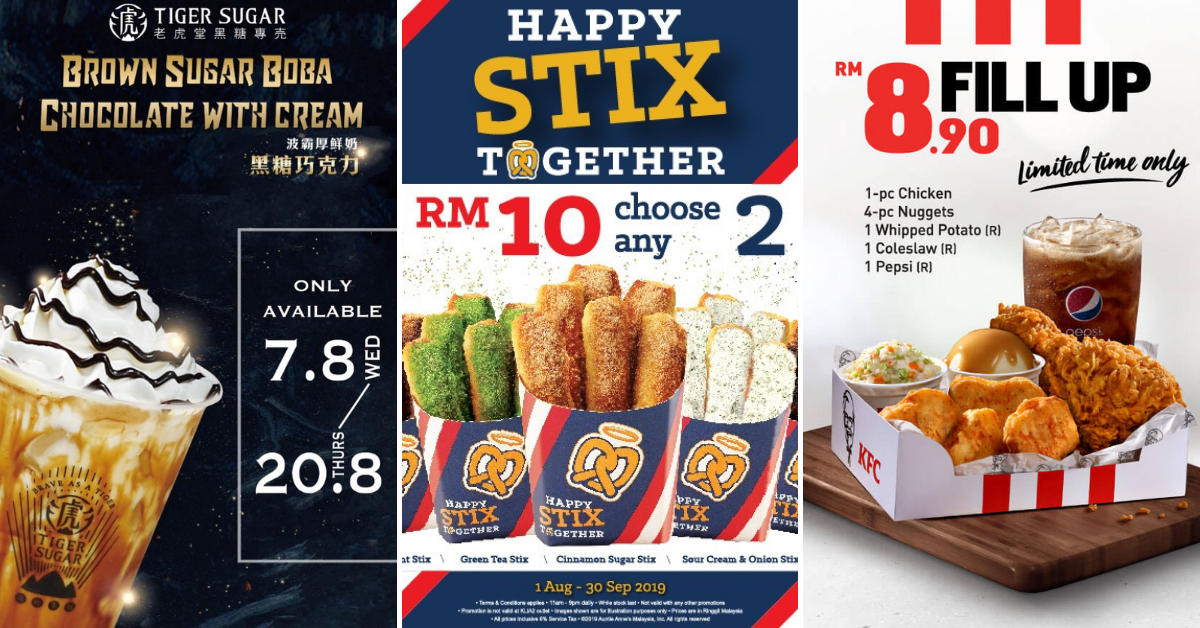 1. KFC Fill Up @ RM 8.90
KFC Fill Up is back! Looking for a hearty lunch to fill up your tummy? Enjoy finger-lickin' Fried Chicken with Nuggets, Coleslaw, Whipped Potato, and a drink, all from only RM8.90 at a KFC outlet near you today! You better get hurry as the promo' is available every day but not forever!
2. Tiger Sugar Brown Sugar Boba Chocolate with Cream
August is an exciting month for all Tigerians! Tiger sugar had just introduced their new special drink – Brown Sugar Boba Chocolate with Cream. By adding premium chocolate to their very own Brown Sugar Boba Milk, and topped it off with fresh cream to create a perfect balance. If you love the perfect combination of chocolate and boba, this is what you shouldn't miss! Mark your calendar foodies, it's available in all Tiger Sugar stores from 7th August till 20th August.
📅 7th August – 20th August 2019
3. Frappuccino for Every1
If you're a coffee-lover, here's an awesome deal from Starbucks that you shouldn't miss. That's right, you can get a second Frappuccino for only RM 1 on 23rd August, from 5 PM to 8 PM. This is the time to get your caffeine fix at a good price, so don't forget to bring along your friends to enjoy this super deal!
Terms & Conditions
The second beverage must be of equal or lesser value than the first beverage.
Not applicable to delivery service.
Not eligible for Starbucks Card rewards.
Valid at all Starbucks stores except Starbucks Sunway Lagoon.
📅 23rd August 2019 | 5 PM – 8 PM
4. Baskin Robbins 62nd Happy Malaysia RM1 Promo
The popular American ice cream brand, Baskin Robbins is here to celebrate Malaysia's 62nd Independence Day too! That's right, you can decide a Mega Celebration or Double Celebration with RM1.00 upsize and enjoy the happiness! This is definitely ice cream lovers' rejoice. We know it's never too much ice-cream, so go for a ride at you nearest Baskin Robbins shop from today till 30th of September to enjoy the super deal!
📅 until 30th September 2019
5. Häagen-Dazs
#1 1-for-1 Milkshakes National Day Promotion
To celebrate the upcoming National Day, Haagen-Dazs is having an extraordinary deal that you won't want to miss. You can now enjoy Buy 1 Free 1 Milkshakes at Haagen Dazs and treat your loved ones, in style. The best part of it? This perfect deal is available on weekdays in the whole month of August. I know right, Häagen-Dazs is so generous and this is happening in all their shops nationwide! Do check them out!
Terms & Conditions:
Promotion is valid for takeaways only
Cannot be applied with VIP Privilege or other promotions
Available while stocks last
📅 1st August – 31st August 2019
#2 Häagen-Dazs Moon Cake x Line Friends
Besides, you can also indulge in the exquisite range of Häagen-Dazs mooncake flavours that include fun themes from Line Friends, Twinkle Night Mix and Lune et Etoilles. From now till 18th August, you can enjoy a 20% discount off these limited edition ice cream mooncakes and bring them home for the family. To avoid any disappointment, please contact outlets to check on products' availability.
Terms & Conditions:
Valid for take-away only.
Milkshake promotion is valid only on Mon-Fri, not on weekends or public holiday.
These promotions cannot be combined with other discounts / promotion / VIP privilege
📅 until 18th August 2019
6. Tao Cuisine RM62 62th Merdeka Promotion
Wanting to have an All-U-Can-Eat buffet and couldn't find any that helps you to retain your wallet size? Best known to be an upscale restaurant that offers high-quality food with full table service, now they are offering a special lunch and dinner promotions for you all foodies. You just have to jio one buddy or gather more of your friends or family members to enjoy this buffet at RM62+ per pax.
📅 until 31st August 2019
7. Auntie Annes Happy Stix Together Promotion
Did you know that Auntie Anne's Stixs are freshly baked with interesting toppings and good enough to satisfy your sweet cravings? This is the best timing for you to give this sweet goodness a try! The choices included Chocolate Mint Stix, Green Tea Stix, Cinnamon Sugar Stix, Sour Cream & Onion Stix, and Coffee Stix. The point is you can get any 2 stix at only RM10, so worth it!
📅 1 August 2019 – 30 September 2019
8. Gongcha x Food Panda Buy 1 Free 1 Milk Tea
You can now enjoy Buy 1 Free 1 Gongcha drinks! But how? You'll need to buy one milk tea with pearl to get the free drink. Before we forget, the deal will be valid from the 7th to 21st of August 2019 and only when you order from Foodpanda. Don't say we never shared any good things to you, remember to jio your friends and have a bubble milk tea date at any place you wish!
📅 7th August – 21st August 2019
9. Burger King Buy 1 Free 1 Promotion
The school holidays are around the corner! What better way to celebrate than with some heart-shaped nuggets. You just need to show the visual above upon ordering to enjoy the promotion, so easy! Look at the nuggets, aren't they lovely?
10. JCoffee @ J.CO Donuts & Coffee
This month, with every purchase of half dozen or 1 dozen donuts at J.CO Donuts & Coffee, you are entitled to get any of their J.Coffee beverage for only RM7. This promotion is valid from now until 29th August 2019. Savour it my friend cuz they don't last!
📅 Until 29th August 2019
List: Foodie Deals August 2019
Finally, we've come to an end! We hope today's Top 10 Foodie Deals To Grab In August 2019 treated you well. Do check them out with your friends and family so they can reap the benefits of good food at good prices! One last thing, share this article with your friends and family! Bye!
Read also: New In: Durian Cheese Pizza Is Now Available In Pizza Hut Malaysia!
–