Top 10 Theme Parks In Malaysia For Your Next Getaway
Happy holiday!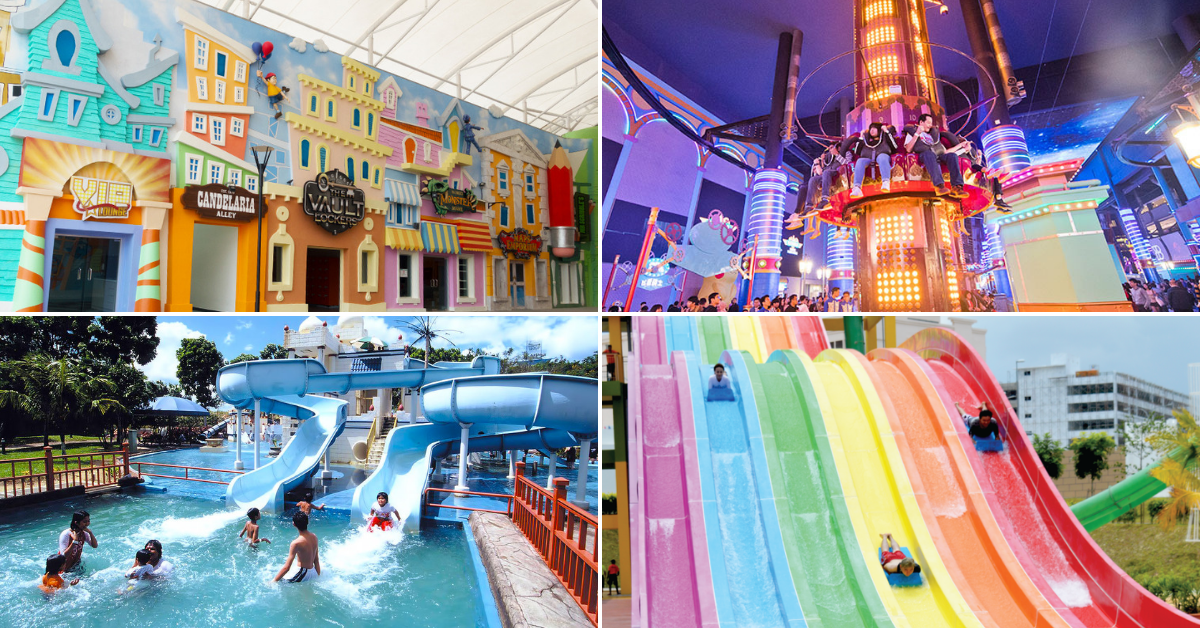 Are you looking for the ultimate adrenaline rush for your holidays? Or are you bringing along your little ones (who want nothing but fast-paced excitement and never-before-seen attractions), then Theme Park is the best choice ever.
When most travelers talk about Malaysia, they think about beaches, historical sites, national parks and of course food! The truth is, Malaysia has so much more to offer, like amazing theme parks to spend a fun day out with your friends and family. Stick with us as we tell you some of the most interesting Theme Parks in Malaysia that is perfect for your next vacation!
Top 10 Theme Parks In Malaysia For Your Next Getaway
1. Legoland Malaysia
Imagine being a knight battling dragons flying through the skies or a pirate riding the seas in search of lost treasure. Legoland is the first international theme park in Malaysia to make your imagination becomes reality! All the rides and attractions here are made out of Lego Bricks. You can create, disassemble and reassemble almost anything you want here, so let your imagination run wild. Of course, if you love to have some water fun especially for the hot weather in Johor, soak yourself in the pool for more adventure at the Legoland Water Park!
The new excitement, Legoland Sea Life is something you shouldn't miss out on! There are more than 50 attractions, 13,000 fishes from 120 types of species as well as 11 unique habitat zones. Everything there is very entertaining, but they also try to educate by teaching that small actions taken by humans can have a big impact on the world. One word, cool!
📍 No 7, Jalan Legoland, Bandar, 79250 Johor Bahru, Johor
🕒 10 a.m. – 6 p.m.
2. Escape Theme Park Penang
Instead of building modern fun rides and relying on technology, ESCAPE is all about nature. Started from a nature theme park, they've now expanded to include water activities! Learn how to climb like a pro in Monkey Business, a challenging rope course designed to perfect your balancing skills. Discover the thrill of flying with fun activities such as flying lemur or kite flyer. Or soak yourself in the pool and get ready for more adventure! Water slides, tunnels and more. The highlight, step into a capsule and be prepared as they launch you down, you'll experience free fall into the tunnel slides.
📍 828, Jalan Teluk Bahang, Teluk Bahang, 11050 Tanjung Bungah, Pulau Pinang
🕒 10 a.m. – 6 p.m.
3. Sunway Lagoon Theme Park
Whether you are aged 8 or 80, Sunway Lagoon Theme Park is definitely a one-stop place for fun. There are many attractive attractions waiting for you! In a nutshell, there are 90 attractions, 150 species of animals, and 6 parks in total! The water rides at the Water Park and Nickelodeon Lost Lagoon are arguably the highlight at the Water Park. Be prepared for long queues at popular rides such as the Vuvuzela, the world's largest vortex ride.
If you are a thrill seeker, there's bungee jumping available at the Extreme Park! Paintball target shooting and archery are available here too. If you are into tigers and lions, a great place to visit will be their Wildlife Park. There are daily animal shows!
📍 3, Jalan PJS 11/20, Bandar Sunway, 47500 Subang Jaya, Selangor
🕒 10:00am till 6:00pm
ℹ️ Sunway Lagoon Theme Park |  03 5639 0000
4. Bangi Wonderland Theme Park
Bangi Wonderland Theme park is situated in the heart of Bangi Avenue, it's multi-coloured water slides peeking playfully above the nearby cityscape. 16 water slides make up the attractions of the waterpark, including a water human cannon, the Magic Funnel, the Surf Rider, and Wonder Loop. Those not too keen on high-octane, high-speed action can opt to dip in the Pirate's Spa, or float gently down the Meander River.
📍 Jalan Bangi Avenue 1/2, Bangi Avenue, 43000 Kajang, Selangor
🕒 Weekdays: 11 am – 6 pm, Weekends: 10 am – 6 pm
    (closed on every Tuesday except school and public holiday)
ℹ️ Bangi Wonderland Theme Park
5. Movie Animation Park Studios (MAPS)
Being one of the most innovative theme parks and first of its kind in Asia, MAPS features more than 40 attractions and an impressive 'cast' of international and local characters. Have your smile and camera ready at all times because you never know when you're going to bump into one of your favourite characters. BoBoiBoy, Mr.Peabody & Sherman and The Smurfs will be roaming all around the park so don't be shy!
Thrill-seekers, there is plenty here for you too. A must-ride is the Megamind Megadrop which takes you up to a whopping 52 metres in the air before plunging you back down to the ground. In fact, it is the tallest drop tower ride in Malaysia! Other than that, you can test your prowess by taking on the Asteroid Attack, Hyperspin and Space X-Plorers. The question is: do you dare?
📍 Persiaran Meru Raya 3, Bandar Meru Raya, 30020 Ipoh, Negeri Perak
🕒 Monday – Thursday: 4 PM – 12 AM, Friday – Sunday: 10 AM – 12 AM
(Closed on every Wednesday except school and public holidays)
ℹ️ Movie Animation Park Studios (MAPS)
6. Lost World Of Tambun
More than just a theme park, it's a destination (that's their motto) at Lost World of Tambun. There are many attractive attractions waiting for you! In a nutshell, there are 6 theme parks and 4 night parks in total. Wonderful Lost World Water Park is where you can cool off with endless wet and wild fun! The Jungle Wave Bay is Malaysia's biggest wave pool and you can hit waves that can swell up three feet high! If you are into tigers and wild cats, get up close and personal with their very own Siberian Tigers at Lost World Tiger Valley. So, what are you waiting for?
📍 No.1, Persiaran Lagun Sunway 1, Sunway City Ipoh, 31150 Ipoh, Perak Darul Ridzuan

🕒 Monday – Friday: 11 am – 6 pm, Weekends, School and Public Holidays: 10 am – 6 pm
(Closed on Tuesday, except on Malaysian school & public holidays)
7. Water Theme Park @ A'Famosa
Grab your suite and jump into the coolest kind of summertime fun at Water Theme Park in A'Famosa. With cool pools, spine-tingling slides, awesome attractions, and tantalizing treats, there's something for everyone! The High Speed Ride is a must-try. The seven-storey slides provide a heart-stopping, yet breathtaking high-velocity joyride as you can hurtle down and reach the ground in just a few seconds!
📍 Simpang Empat, Jalan Kemus, 78000 Alor Gajah, Malacca
🕒 11 am – 7 pm (Monday – Friday), 9 am – 7 pm (Saturday – Sunday, Public & School Holiday)
(Close every Tuesday except for Public & School Holiday)
ℹ️ Water Theme Park @ A'Famosa
8. i-City Shah Alam
Known for its LED-lit attractions that light up the night sky, i-City Shah Alam is a theme park which comes with an array of fun and exciting activities. Get wet and wild and adventurous with Tornado Ride at Water World or experience winter-cold at Snowalk featuring snow-fall and ice-scluptures! House of Horror is great if you want to do some ghost hunting, Trick Art Museum if you want to take really cool photographs. Be sure to get your camera ready for some Insta-worthy photos!
📍 i-City, 40000 Shah Alam, Selangor, Malaysia.
🕒 Open Daily: 11 am – 12 am
Alright, we think you might be familiar with the previous indoor theme park, but this is the upgrade from the previous indoor theme park which was located at the First World Plaza. Due to the cool climate of Genting Highlands, there are many who like to be inside the resort where the temperature is controlled. You can experience more than 20 new rides such as Children Rides, Family Rides and even Thrill Rides! As we always say, seeing once is better than hearing a hundred times. You just have to push the fears aside and give it a chance, you might have one of your best days ever!
📍 Level 1, First World Plaza, Genting Highlands, 69000 Genting Highlands, Pahang
🕒 10am – 10pm 
ℹ️ Skytropolis Indoor Theme Park
10. Berjaya Times Square Theme Park
Berjaya Times Square Theme Park is Malaysia's largest indoor theme park. This theme park is divided into two sections, The Galaxy Station & The Fantasy Garden that caters to adults and children. Don't miss out the star attractions such as Supersonic Odyssey & DNA Mixer while you're having a blast at the theme park!
📍 No. 09-103, 9th Floor, Berjaya Times Square, No.1, Jalan Imbi, 55100 Kuala Lumpur
🕒 Monday to Friday (12 pm –10 pm), Weekend & Public Holiday (11 am –10 pm)
ℹ️ Berjaya Times Square Theme Park
These 10 theme parks that we had just mentioned will create priceless memories that last a lifetime. Which place would you like to visit for your next getaway? Let us know in the comments!
Now Read: Top 30 Things To Do In Penang & KL
Don't forget to share this article with your friends and family!