Baskin Robbins: Enjoy 31% Off Handpacked Ice Cream From 26th June 2019 (5 days only)
Ice cream lovers, this one's for you.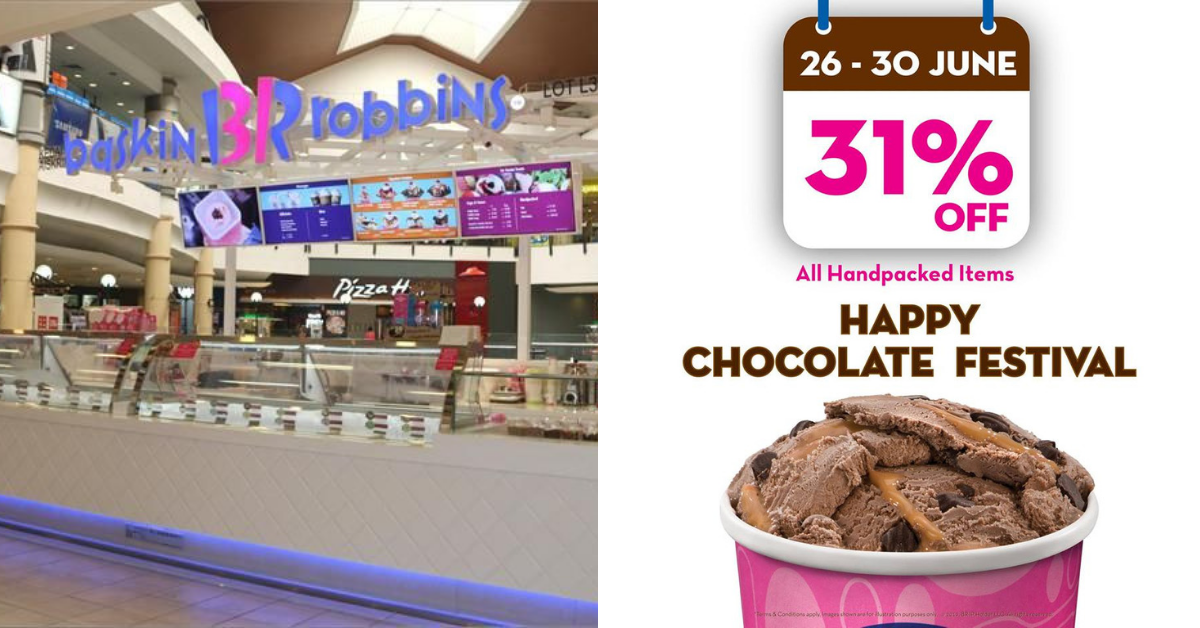 Hello Foodies! We're here again to deliver you some sweet news. The popular American ice cream brand, Baskin Robbins is offering 31% off for all of their handpacked ice cream from 26th June 2019. So, you know it is time to end the month with a bang and it is time to treat yourself! Don't wait any longer, scroll down to find out more.
Baskin Robbins: Enjoy 31% Off For All Handpacked Ice Cream!
Yes, you don't need to wait until July to get 31% off at the end of the month. The good news is, the ice-cream franchise will be having 31% off all handpacked ice cream from 26th to 30th June 2019, and it is valid for five days! I know right, Baskin Robbins is so generous! You can choose from any of the delicious flavors which are available in pints, quarts, and half-gallons. Bring home your favorite ice cream to enjoy whenever you want!
Happy Chocolate Festival!
Baskin Robbins Malaysia celebrates Chocolate Festival too! What's so special about this festival? You have 12 varieties of chocolate flavors to indulge with the Chocolate Boat and Chocolate Double Junior. A bonus here is you can even get caramel topping or chocolate waffle cone for free.
This is definitely chocolate lovers' rejoice. We know it's never too much chocolate, so go for a chocolate ride at you nearest Baskin Robbins shop from today till 31st of July. Savour it my friend cuz they don't last!
Who are you going to bring along to Baskin Robbins for this wondrous treat? What flavour are you gonna grab this time? Let us know in the comments! Don't forget to share this good news with your friends and family too! Till next time, Bye!
For more information, you can check out Baskin Robbins' Facebook page.
Read also: Sushi King RM3 Bonanza Is Back With More Than 45 Sushi Varieties!
–