Top 10 Foodie Deals To Grab This July 2019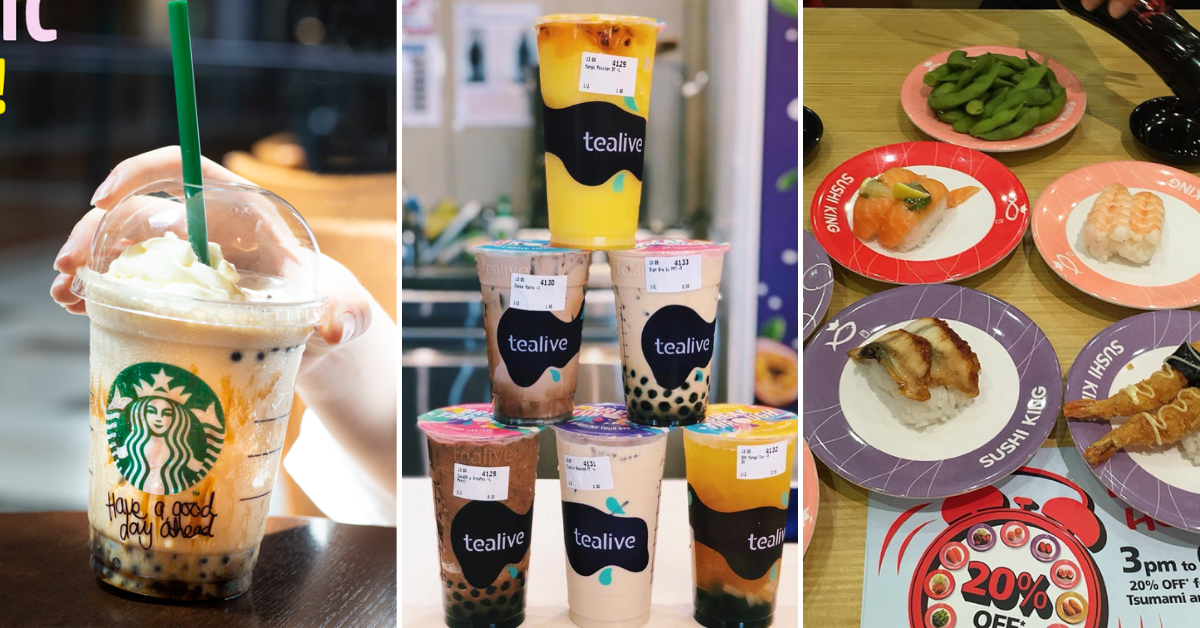 Time flies, it's the month of July already! We're back with another selection of Foodie Deals you can grab this July. From your favourite fast food restaurant offer to bubble milk tea store, this month is going to be super fun! That's right! They've got the best deals and discounts ready for you to grab this month! Don't wait any longer, keep scrolling!
Top 10 Foodie Deals To Grab This July 2019
Sushi King RM3 Bonanza is back to treat us to a meal of a lifetime with more than 45 sushi varieties this time around. Big shoutout to Sushi King! They will host the Sushi King Bonanza for us to enjoy at all places with different promotion period which you can check out right below.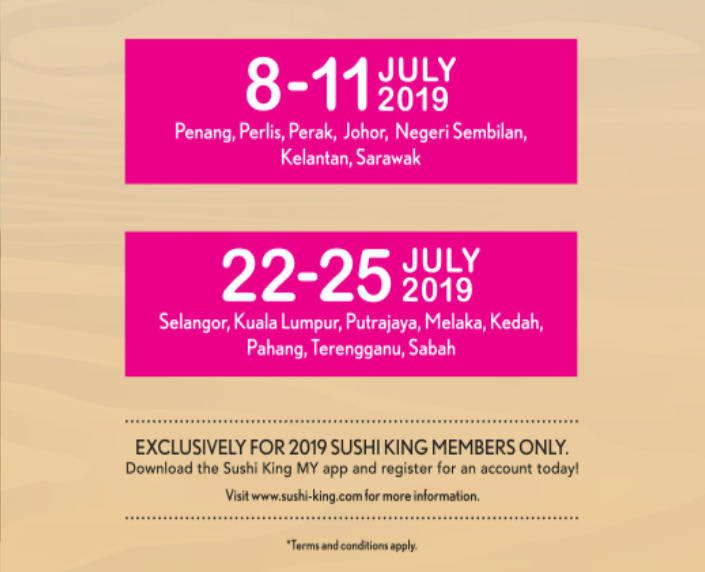 Remember it's exclusively for 2019 Sushi King members only. Download the Sushi King MY app and register for an account today, yup as easy as that! The promotion comes with terms and conditions applied. Catch you there!
📅8th to 11th July 2019 (Penang, Perlis, Perak, Johor, Negeri Sembilan, Kelantan, Sarawak)
📅22nd to 25th July 2019 (Selangor, Kuala Lumpur, Putrajaya, Melaka, Kedah, Pahang, Terengganu, Sabah)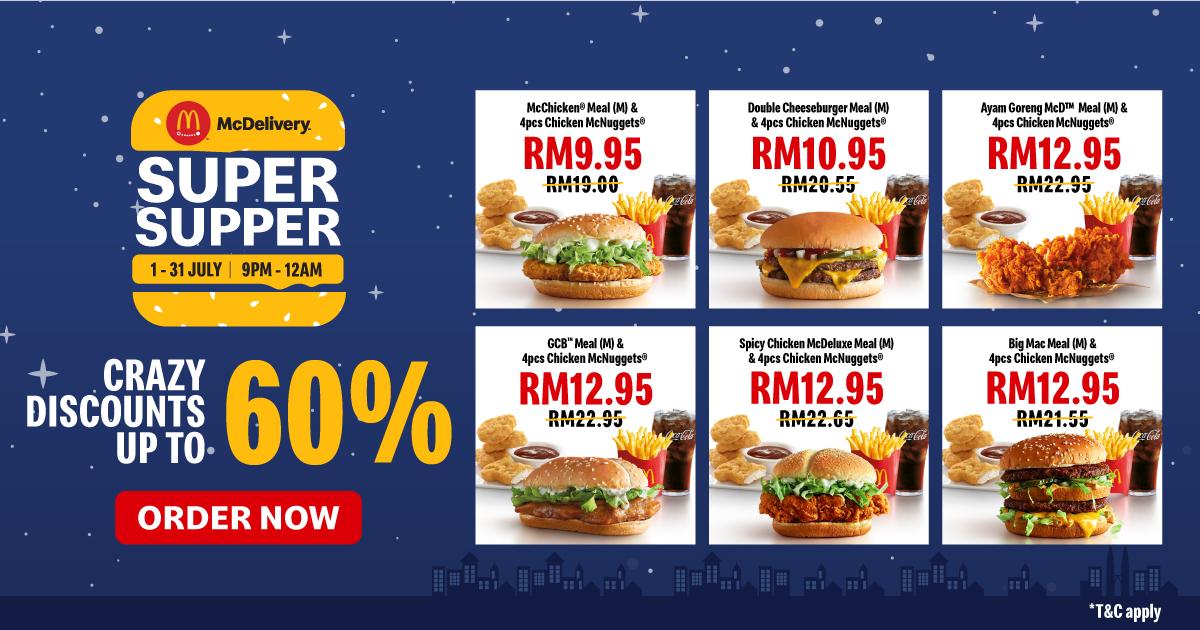 Yes, it is all the things we love from McDonald's! McDonald's Has Crazy Discounts Up To 60% For Its Super Supper Deals This July – the perfect solution to your night-time cravings! From 1st to 31st July 2019, save more as you enjoy a selection of super deals for supper from 9pm-12am daily! Valid for McDelivery, you can be sure that you're getting a great meal, and a great deal! Order Now!
📅1st to 31st July 2019
🕒9:00 p.m. – 12:00 a.m.
Secret Recipe had just introduced their New Boba Series and you should give them a try. Unlike other bubble milk tea shop, these drinks in Secret Recipe aren't too pricey as they remain at only RM 6.50 per regular cup. Unfortunately, not all Secret Recipe outlets have this series readily available. So here's the complete list of Secret Recipe outlets which will launch the Boba Series.
4. Free 1 Pc Fried Chicken @ KFC
National Fried Chicken Day is here! For one day only, you can enjoy FREE 1 piece finger lickin' good chicken only for orders via the KFC app! Download the app now, register and get ready to order!
📅6th July 2019
5. Starbucks
#1 Starbucks Fantastic Monday
No more Monday Blues! Starbucks Malaysia will be having an ongoing promotion for its summer beverages until 15th July 2019. However, this promotion is only valid for every Monday. Head down to your nearest Starbucks from 5:00 PM to 8:00 PM, to enjoy summer beverages for only RM 15 each.
The selected beverages include Dark Caramel Sphere Frappuccino, Watermelon & Lychee Aloe Juice Blended, Dark Caramel Coffee Frappuccino, Mixed Berry Frappuccino with Pomegranate Pearls. The latter two is applicable if it is available in the outlet only.
📍All Starbucks stores except Starbucks kiosks at Sunway and GSC.
⏰ 5:00 PM to 8:00 PM
📅 Until 15th July 2019 (every Monday)
#2 Get Together Over Frappuccino
A great deal for two! You can now enjoy two Grande-Sized Frappucino at only RM26! However, great things are always limited, you can only grab them on every Wednesday from today until 17th of July 2019, from 5 PM to 8 PM.
📍 All Starbucks stores except Starbucks kiosks at Sunway and GSC.
⏰Time: 5:00 PM – 8:00 PM
📅Until 17th July 2019 (every Wednesday)
6. Fruit Tart Mania @ Hokkaido Baked Cheese Tart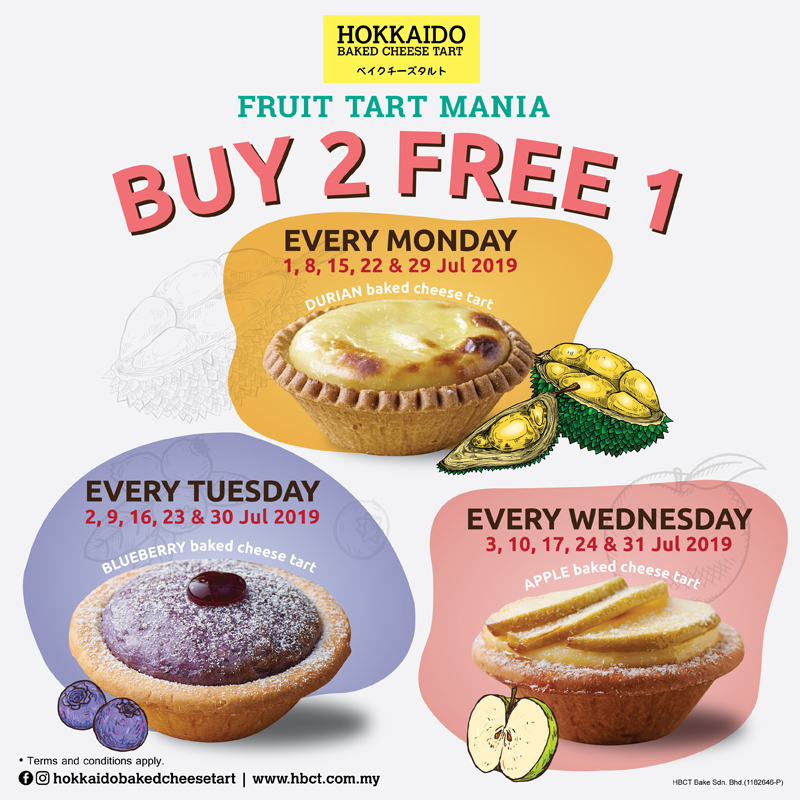 If you haven't tried any Hokkaido's fruit cheese tarts, this is the perfect timing for you to snag up as many comfort foods as possible. What is so good about this deal? You can get one free refreshing fruit tarts when you buy two tarts on every Monday, Tuesday and Wednesday this month (July) at Hokkaido Baked Cheese Tart.
You can enjoy different flavours of free fruit cheese tarts with different promotion period including durian, blueberry and apple. Freshly half-baked cheese tarts are so irresistible, so do check them out!
Durian Baked Cheese Tart (Every Monday)
Blueberry Baked Cheese Tart (Every Tuesday)
Apple Baked Cheese Tart (Every Wednesday)
📍Hokkaido Baked Cheese Tart outlets in Peninsular Malaysia and Sarawak only.
📅1st July – 31st July (every Monday, Tuesday and Wednesday)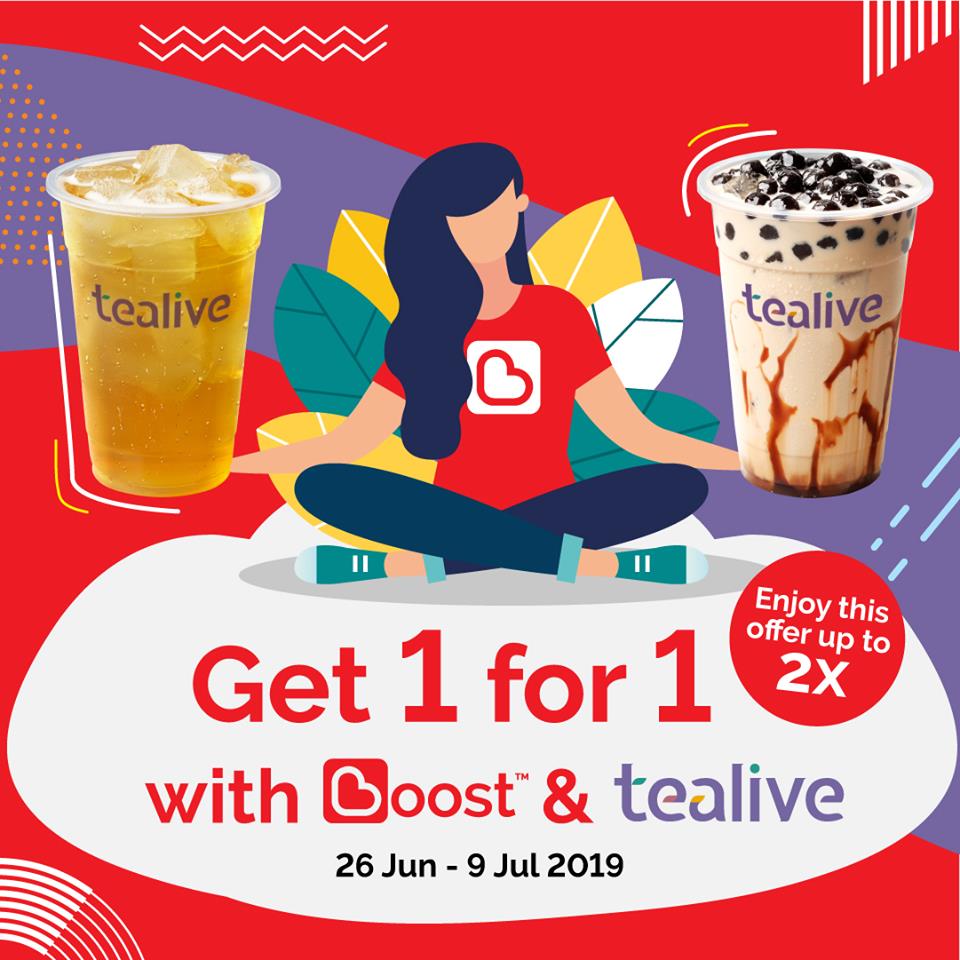 RIght after the special RM2.50 TNG ewallet promo is fully redeemed, Tealive is having another round of promotion for y'all! Yes, you can now enjoy a second drink of Tealive for free with your buddy on your next hangout! But how?
First, download the Boost app, next you'd need to proceed to Do More, then Vouchers and tap on F&B to purchase your RM0 Tealive voucher. Anyway, you can click here for a clearer explanation!  Don't say we never shared any good news to you, remember to jio your friends and have a bubble milk tea date with them!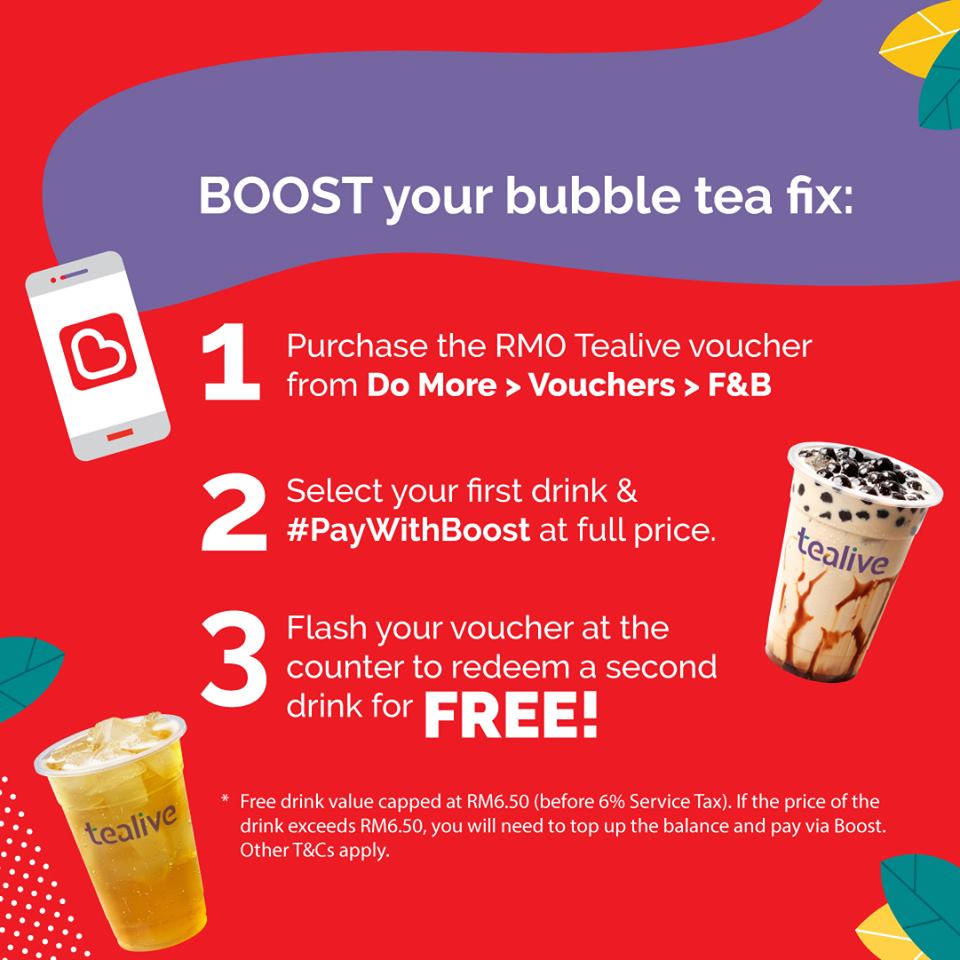 📅26th June – 9 July 2019
8. Jogoya Special Promotion
#1 Malaysia Day Special Promotion
Wanting to have an All-U-Can-Eat buffet and couldn't find any that helps you retain your wallet size? Fred not, Jogoya is having a special lunch and dinner promotion for you all foodies. Every 2nd pax will be charged at only RM9.16+ (RM10.60) after tax from 1st July until 12th September. It is only valid from Monday to Thursday.
*Non member* Additional Rm10++ (RM19.16++)
📍T3, Relish Floor, Starhill Gallery,181, Jalan Bukit Bintang Kuala Lumpur, Malaysia
📅1st July – 12th September 2019 (Monday to Thursday)
#2 TGIF Deals
You can also enjoy the lunch buffet at only RM 68++ (RM 78.88) after tax, starting from 5th July until 27th September. However, bear in mind that this deal is only valid every Friday and for a limited time only. Thanks to Joyoga, we now can munch on all-you-can-eat lunch at a more affordable price! Don't forget to bring your friends along to visit Jogoya this July to September to enjoy this crazy deal!
📍T3, Relish Floor, Starhill Gallery,181, Jalan Bukit Bintang Kuala Lumpur, Malaysia
📅5th July – 27th September 2019 (every Friday)
Terms and Conditions
Nett prices are inclusive of 6% service tax and 10% service charge
Not valid on public holiday eve and public holiday
Not valid with other promotion and discount.
9. Spicy Tangy Tuna @ Subway
The long-awaited new Spicy Tangy Tuna sub is here in town! Starting from 3 July 2019 until 8 October 2019, you can get it as a combo meal for only RM12.90. The combo meal comes with a 6-inch Spicy Tangy Tuna Sub and 16oz fountain drink. Don't wait any longer, try it at your nearest Subway restaurant today!
📍All participating SUBWAY restaurants in Malaysia
📅3 July 2019 – 8 October 2019
10. Butterscotch Bread and Butter Pudding @ Domino's Pizza
From today, you can enjoy free Butterscotch Bread and Butter Pudding by ordering any regular pizza at Domino's Pizza. The promo is only valid for online purchase. Baked with sweet raisins and bursting with velvety vanilla sauce, this tasty goodness actually worth RM 11.90, so what are you waiting for? Click here to get the eCoupon now! For more information, you can also check out their Facebook page.
📅Until 7 July 2019
10 Foodie Deals You Shouldn't Miss Out On This July!
Finally, we've come to an end! We hope today's Top 10 Foodie Deals To Grab This July 2019 treated you well. Do check them out with your friends and family so they can reap the benefits of good food at good prices! Share this article and tag your buddies. Byes!
Read also: New Extra Spicy "Ghost Pepper Mamee Monster" Snack Spotted in Malaysia Supermarket
–